PERINATAL LOSS & INVOLUNTARY CHILDLESSNESS ALLIANCE

Every day of every week, every month of every year, a woman's heart will shatter with the devastation of the loss of a baby, either through miscarriage, the complications of preterm delivery, stillbirth or the sudden death of an infant.

Sometimes this devastation derives from a pregnancy that does not eventuate, or from repeated attempts at IVF, or perhaps as a consequence of unexplained infertility and the anguish of the loss of one's hopes and dreams and the promise of family.

In broaching the conversation on the impact this loss has on so many lives, we break the silence and challenge this stigma, throwing a lifeline to others who face similar heartache or challenge.

Perinatal Loss & Involuntary Childlessness Alliance (PLICA for short) is dedicated to the many women (and their partners) who walk this troubled path. We recognise the very unique kind of loss experienced by those who have lost a baby or who are involuntarily childless. Through education and online resources, PLICA seeks to provide support for those who grieve as well as raise awareness in the broader community as to how best to support their loved ones, sisters or friends through this kind of loss.

The Perinatal Loss & Involuntary Childlessness Emblem combines the colours of the three Awareness Ribbons that signify the grief associated with perinatal loss and involuntary childlessness. These ribbons are the colours for Pregnancy & Infant Loss Awareness community, the Infertility Awareness community as well as the Childless Not By Choice community.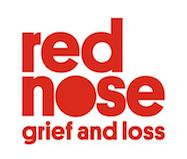 For Australian Residents
If you or someone you know has experienced perinatal loss and requires support, help is available either online, by phone or in person through the Red Nose Organisation via the Red Nose Grief and Loss support services:
"Red Nose provides Bereavement Counselling free of charge to any person affected by the sudden and unexpected death of a baby or child during pregnancy, birth, infancy or childhood. The counsellors at Red Nose understand that your expression and experience of grief is individual, and can tailor sessions to best meet your needs."
"Although grief is a natural, normal response to loss, there may be times when you feel stuck or are experiencing a traumatic response to your loss. It is at these times that you may need some extra support to help you come to terms with what has happened to you. No matter where you are at in your grief journey Red Nose qualified Bereavement Counsellors are available to support you by phone, face to face or virtually. To find out more or arrange to access Bereavement Counselling please call the Red Nose Bereavement Support Line on 1300 308 307."
To go directly to Red Nose Grief and Loss, please click on link below.
© Copyright SK Reid All Rights Reserved